A Solo show Written and Performed by Kurt Naebig.
Laura Linney (Academy Award Nominee, Emmy and Golden Globe Winner) says: "Kurt Naebig's show is unique, his storytelling fascinating and nimble, but it's the depth of his spirit that stays with you long after "Stove Toucher" is over."
What happens when you achieve the high-rolling lifestyle you always dreamed of…at thirteen years old? An extraordinary and funny coming-of-age story set during the 1970's skateboard boom, about a semi-pro boarder who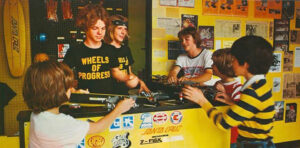 opens a successful business, gets interviewed by Charlie Rose, and falls into drugs: all before high school.
A little bit Doogie Howser, a little bit Basketball Diaries… Stove Toucher is a high adrenaline, hilarious, heartfelt recounting about getting everything you ever wanted – and then watching it fall apart.
"My face hurt from laughing, I was livid at points, I cried too…just wow."
– Lynnette Li
"As harrowing as it is charming, STOVE TOUCHER is a great ride."
– Matt Miller
"Your show Rocks!"
– Dorothy Milne (Lifeline Theatre, Fillet of Solo Festival Curator)
"Stove Toucher is about finding the perfect vessel for your passion, and fiercely, heedlessly, pouring everything you have into it. It's an exhilarating story, a tale of triumph and self-destruction, of rarefied air and brutally unforgiving concrete, told in a bracingly vivid style by the man it all happened to. Kurt Naebig draws a lively, exquisitely-detailed map of his adolescent trajectory, when he was ascending to vertiginous heights, and plummeting to potential oblivion, all at exactly the same time."
– Christian Stolte (From NBC's Chicago Fire)
"The show was funny, sincere and moving."
– Connie Canaday-Howard (Artistic Director of Buffalo Theatre Ensemble)
"What a wonderful story! So well written and performed….You inspire me to keep doing the physical things I love even as I age. It shows me there is hope that you can still find beauty, new meaning, new interests, new friends, new thrills in life, even as it changes."
– Raina Lynn
"I was incredibly moved by the piece…. I found myself welling up with tears in between all the humor he expressed in his writing. Thank you for the… inspiration and the encouragement that things do get better."
– Kyle Ryan
"I loved it. You have a great story. Heck, you did more by 16 than most people do by 40!"
– Luke Renn
"The way you told the story was so engaging and unpretentious, you were so likable throughout the entire performance, even when you were speaking as messed-up teenager Kurt, which broke my heart."
– Colleen O'Malley
"The show was killer, as expected."
– Kayla Griffith